For something different, I decided to go back to my server and I found this movie starring a long list of excellent stars I noticed not only was it on my server but it was also available for free streaming on channel seven's streaming channel for free called 7Plus. You do get the ads in between the movie but I thought I would give it a shot and see how the 7Plus app is and well it ain't that bad I started watching the movie via my tv and then ended up finishing the movie on my phone. I can tell you this much the tv app is a better experience and easier to set up than the phone. The installation of the app takes a tad longer than expected but once you got it it's easy to stream.
Wrath of Man as I said before had a decently strong cast the main man himself needs no introduction Jason Statham the transporting mechanic in this movie plays a cash van driver that at first you think is there just for the job and when things unravel you understand that H Jason's character has more skin in the game than you realize. Jason always plays those quiet doesn't say much tough guys that pack more than a punch.
Jeffrey Donovan also plays a main role in this movie you might still remember him from the tv series "Burn Notice" Jeffrey plays a character called Jackson which just writing this now seems funny because his character's name in Burn Notice was Michael so just playing this two roles he has become the smooth criminal himself "Michael Jackson". Jackson in this movie is portrayed to be the architect of the group and helps plan the strategy of how this group of ex-military men that have gone bad and want to retire early knock off these cash van jobs. Each of the cast in this movie and the cast is bigger than normal has an essential part to play and it's all told you by different timelines in the movie. Yes, you do go back in time and not "Back to THe Future" type going back more than 5 to 6 months back in time to explain to you the audience how we got where we are now.
Josh Hartnett is the next notable actor that plays "Boy Sweat Dave" I have not seen Josh for a long time in movies. Going through his IMDB profile I went down and saw the first time I saw Josh when I was in a movie with Julia Styles called O a retelling of a Shakspearean tale that I forgot about and since then wider audiences would know him from "Black Hawk Down" and in more recent times "Die Hart" movie and series and "Operation Fortune" that last movie is still on my list to get to at some point.
Scott Eastwood is also in this movie as part of the Cash Van group at first I did not recognize him and well I did not think much of his character later on when things unfolded he plays a much more vital role in the entire storyline a much meatier role he has played I have seen before from Scott. Scott plays a character called Jan and he seems to be a little rough around the edges in this movie Scott's character is what gives the movie the feeling of you watching a movie called SWAT with Samuel L Jackson and Colin Farrell.
Andy Garcia plays a small role in the movie called Agent King and I am not sure what to think about his role he is a piece of the puzzle in the movie but I think he was needed well someone less known could have done this role. A piece of trivia looking at Andy's IMDB page did you know that he had a role in the last "Godfather" Movie? One of the latest movies he has made that is more family-friendly is the remake of "The Father of the Bride" I still need to watch this and review this movie the ladies in the family already watched it and liked it but I still have a soft spot for the original with Steve Martin and Martin Short.
Holt McCallany is the last actor on the cast that is noteworthy he plays a straight shooting no nonsense cash van guard that just wants to do his job and go back to his family. Holt plays a character called "Bullet" and this is fitting for the role he plays. Did you know Holt had a role in Brad Pitt's movie with Edward Norton called "Fight Club"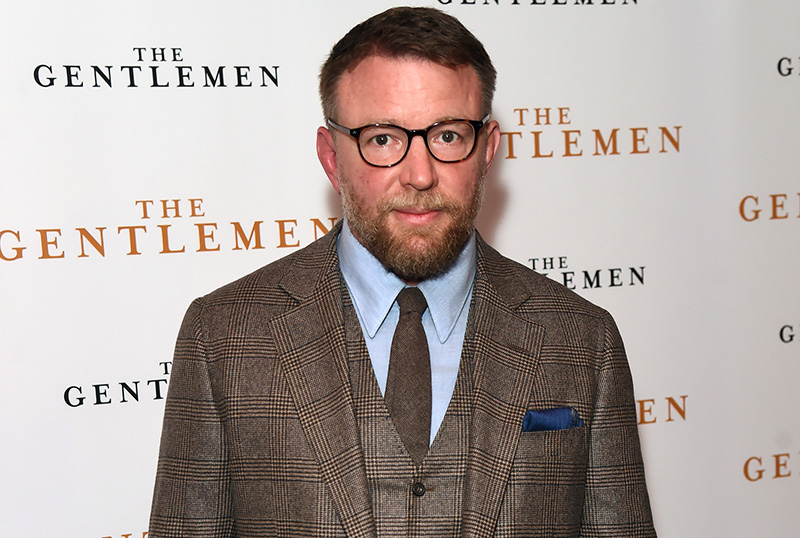 Lastly, this is brought to you by the main man himself and one of his more recent better movies that he has directed Mr Guy Ritchie yes he was married to Madonna and that was an upside-down time for him but in this movie, he is back in the genre he is more comfortable in the tough guy good guy bad guy movie and even with the live-action remake of Aladdin movie that he made I think he should have stayed away from musicals and I still think that Flufffy Gabriel Inglasis would have been a better Genie that the slap master himself Will Smith. Wrath of Man is more like Snatch and Lock Stock and Two Smoking Barrels.
The movie goes under two hours and is one of those movies that I never looked down at my watch to look at the time it seamlessly moved even with the going back in time parts it all makes sense in the storytelling and is a blokey movie I would not think to be a date movie with the amount of violence in the movie. Wrath of Man has the feel of a revenge movie tied up with Antihero justice which makes all the sense when you watch this movie. It is one of the more well-told stories with a bigger storyline that justify's the amount of violence.
This movie is not suitable for kids it is rated in Australia as MA15+ and R+18 on IMDB.
My Rating