The wife and I finally got a chance to have a day to ourselves with no kids and well we had a family babysitter for the day and we took that opportunity to have a day date and go out without any kids which is rare these days.
Our day date started off with going and doing a general blood test and then coming home and having some breakfast as for the blood test as many of you know most blood tests you have to fast and we did that and you would not believe how many people are waiting outside a pathology near where we live before 8 am on a Saturday morning waiting for the pathology to open.
We got into the pathology place with the other bunch of people I would say over ten people were waiting in line with us at the same time we managed to be number 6 & 7 in line and in no time we did our tests and got outta there because we wanted to go have breakfast.
We got home and had a bite to eat and I mean like breakfast leftovers and I really was not fussed because the wife and I really wanted to get to the movies but we had one more job to do before we could have real fun I had to go and have a physio appointment and we managed to do that and then it was time for the day date.
I bought the tickets online and became a limelight movie member I think they called it "Movie Legends" program or something to that nature and they gave us two tickets Gold Class for $15 each and this is a bargain for Gold Class tickets these days.
Wifey and I went and did some shopping and had a small bite to eat before the movie as the movie did not start until after lunchtime. This was good because we got early to the cinema popcorn stand and other goodies and being our first time I just asked the basic question on how this all works is it like other Gold Class experiences or is it different well it was pretty much the same you can pre-order your food and like other places they have three times in the movies they bring the food which was good but we ordered a few items a big popcorn box my wife ordered a cappuccino I ordered a big Fanta and also we ordered spicy nachos. Now remember we ordered this 30 minutes before the movie had started so we could go into the movie without doing the mad rush of getting food when the movie started so everything was planned to go off without a hitch.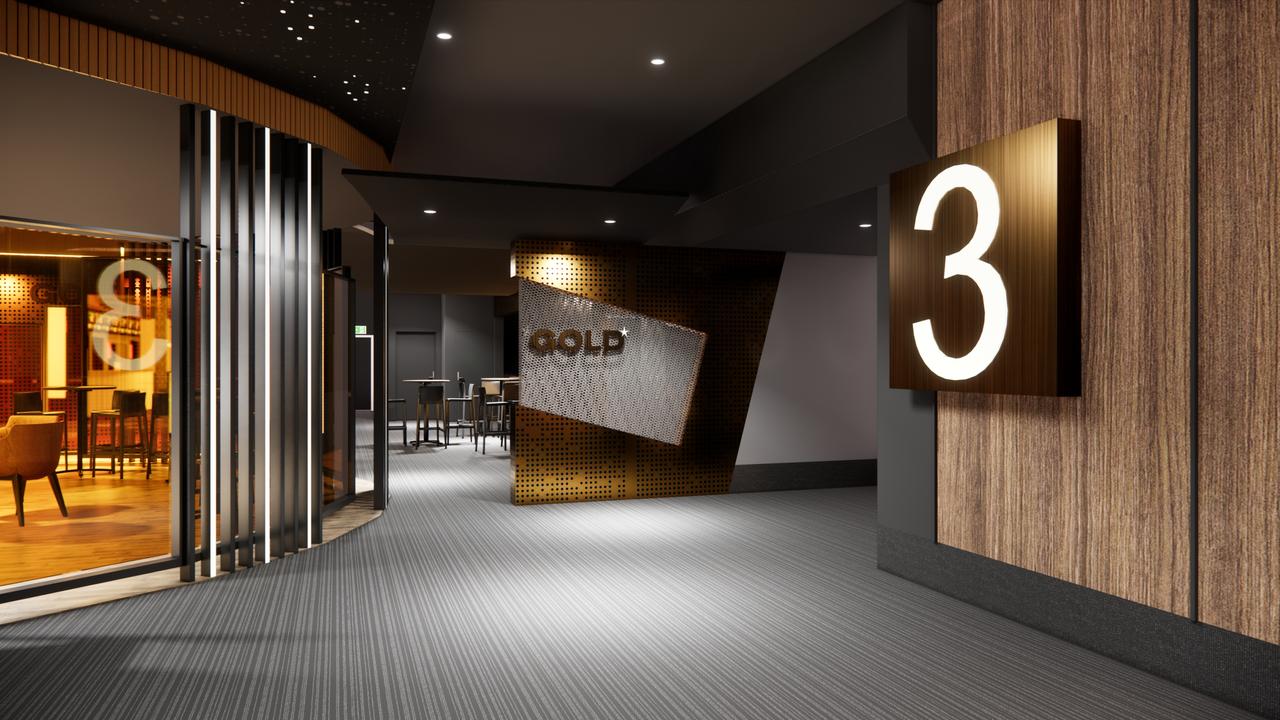 So we had the popcorn and drinks come to us first and the second time in the movie the spicy beef nachos came to us while watching the movie which I promise to get to reviewing soon.
Now we sit there and I have to say this part was my error choosing the two reclining chairs right up the top back middle of the cinema was not a good choice because I think this contributed to how we were served and when we were served because I have a disability climbing steps up and then down and then the par which was not a good siting experience because it felt my chair did not recline fully as it hits the back wall and does not go flat and comparing to the chair I have at home this was pretty substandard but we will choose different seats next time.
Now normally this is when everything should go smoothly but like the movie Haunted Mansion serving us became a big distraction and instead of focusing on the movie I was like Where is my food which took me away from focusing and experiencing the movie.
The movie ushers started to bring the food to the audience in the movie at the same time and not at the allocated times we advised and we were one of the last people to get our food I felt this was due to the position we were seated and the fact when I questioned the lady going where is our food? in a more polite way of course she apologized and took ownership and said sorry we have had some issues with service today which I took at least she said sorry and took ownership and waited.
Fast forward to getting our food and drinks The drinks came and popcorn came and remember I asked for a Fanta and there was something different with our popcorn order because the lady advised we could mix M&M's with our popcorn and I said sure that sounded cool and something different.
Guess what we got? The usher came with our popcorn finally the first time and drinks, my wife cappuccino She was happy no drama's the popcorn came and I was busy munching away and then realized that we asked for M&M's to be added which was missing and then when I took a sip of my Fanta it turned out to be Coke. I know these are first-world problems but when this stuff happens and takes your focus away from the movie and story then you really do not enjoy the experience and forget about watching the movie.
I advised the lady poor thing of the drink being wrong and the popcorn as well so they got the order wrong and it was late as well I was "Not Happy Jan" Anyhow this finally was corrected by 3:20 p.m. halfway through the movie and then I could sit and enjoy the movie although I drank my Fanta which was poured in the same cup that the coke was in so I could taste a Fanta with coke residue. The spicy beef nachos were the only thing that was ok not the best but ok it was spicy only because they put in jalapenos to make it spicy and it had salsa from a jar and not enough beef.
The one thing that both wifey and I came out after the movie and said the movie was good but the food even if Gold Class is that cheap is not worth it. So we said we would do BYO goodies from home the next time.
Finally, it's time to tell you about the movie. Firstly if you think this linked to the Eddie Murphy version back in the early 2000s it is not It's a brand new story on its own and like the Eddie Murphy version it aimed at younger audiences and well my wife was expecting a movie a tad scarier and well it was not because wifey is into horror flicks and I am not we watched this anyway and as this as I just mentioned was aimed for younger audiences they kept it PG for the most part.
As always this movie is around the Disney ride and well I have never been to Disneyland or Disney Wolrd I cannot review how correlated the ride and movie are but I can state I was elements that were ride related where the chair takes them flying out of "Haunted Mansion".
Haunted Mansion is directed by a new movie director I feel as he has directed the TV show called "Dear White People" This is done by none other than Justin Simien.
The cast did a good job considering the story which was average by far about a single mum with her son who buys the haunted mansion and then instead of doing house renovations they have to get rid of the ghostly sports that haunt the mansion and then this is when the spooky stuff starts.
LaKeith Stanfield acts as Ben Mathias an Astrophysicist who turns into a ghost tour guide after his late wife dies and via Owen Wilson a fake priest brings him to help the single mum after Ben is offered 10K to help remove the spooky ghost anyhow that is the premise of the movie and the single mum is played by Rosario Dawson. Rosario plays some really different roles sometimes which is amazing because you like wow Rosario has a lot of acting range.
Owen Wilson as mentioned plays a fake priest who has to try and remove the ghosts with Lakeith's character and he brings a level of funny that he does in all his movies nothing new here really.
Tiffany Haddish is the next actor off the rank and this is the second movie I have seen with her in it in recent times. The previous movie was The Card Counter which was a different role well check it out in the hyperlink.
Tiffany plays a clairvoyant who summons the dead who have got unfinished business kind of like Casper Tiffany brings her type of humor with heart into the movie and it's good to see her doing so well in the movies and roles she is landing.
Danny DeVito is the next notable actor playing Bruce Davis in the movie and he bought confusion for me the movie as I did not figure out how he was linked I think he is linked to the family tree of friends and family of Jared Leto's Top Hat Ghost character.
Jamie Lee Curtis plays a Ghostly character that is affected by Jared Letto's Top Hat ghost and Jamie helps bring an end to the Top Hat Ghost's reign of scary terror.
I have mentioned Jared Leto a few times already in the reviews he basically plays the bad guy who has a back story about a father who kicks him out of the house places a curse on the house and basically haunts the house until Ben and Rassario's character come to change things.
This element of the movie is the essence of the movie that you should not always focus on the sad thing that the person in your life has left you but remember them for living and remember the good times and not focus on the loss as this will keep you from progressing your life in this world.
Now the two actors I would like to mention are two great standup comedians: Jo Koy and Hasan Minhaj
Jo Koy is an American Philipino standup who is amazing and awesome as a standup you should watch his specials on Netflix he has a small role as a daytime bartender in this movie and secondly Hasan Minhaj is also a standup comedian that plays a sketch artist in this movie and I am sure he actually can draw can someone tell me otherwise?
It was a great day out with a few bumps but all in all a great day date.
The movie was ok I would advise waiting for Disney+ to bring it out in October and sitting next to young kids in the movie as mentioned by wifey they got scared and moved closer to their parents take that whoever you like it.
My Rating